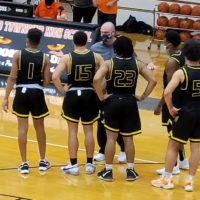 The Galesburg Silver Streaks boys basketball team used a big second quarter, and an early third quarter run, to outlast the United Township Panthers on the road 54-39 Saturday night, moving the Streaks to 5-0 on the season.
Eric Price was our Dave's Autobody Crunch Time Player of the Game, finishing with a career-high 28 points and 12 rebounds — moving him into 22nd place on the all-time scoring list at Galesburg High School.  His 13 second quarter points helped fuel the Galesburg run that helped build a double-digit lead at the half.  He then hit big back-to-back three-point shots in the third quarter to help give the Streaks a big lead.  Price was the only player in double figures.
The Streaks freshmen and sophomores both lost their games.
Galesburg now moves to a first-place showdown with Rock Island Tuesday night at the GHS Fieldhouse.  Hear the game starting at 7:06pm on WGIL.
Miss tonight's game?  Listen to the action here!
Tags: