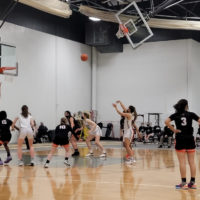 The Galesburg Silver Streaks girls basketball team are now 8-0 on the season, and 5-0 in the Western Big 6 Conference, after a 57-38 win over the winless United Township Panthers Saturday night at the GHS Fieldhouse on Senior Night.
The Streaks jumped right on the Panthers in the first quarter, leading 20-4 at the end of the first.  United Township didn't score their first basket until 3:08 left in that quarter.  The Streaks went on to have a continuous clock in the fourth quarter once their lead was 30 points.
Riley Jenkins, one of the Galesburg seniors, had a double-double, leading scoring with 18 points along with 11 assists, five rebounds, and a blocked shot.  Lauren Livingston, another senior, had 11 points, including three three-pointers, along with five rebounds, two assists, and two steals.  Senior Audree Peck had eight points, six rebounds, a block, a steal, and an assist.  Junior Kadynce Lydic had nine points, a couple steals.  Abby Davidson had seven points.
The three seniors — Jenkins, Livingston, and Peck — were our Dave's Autobody Crunch Time Players of the Game.  All three were big contributors, and it's appropriate to honor them on Senior Night.
The Streaks travel to Rock island Tuesday night to take on the Rocks.  You can hear the game starting at 7:10pm on 92.7 FM The Laser.
Miss tonight's game?  Listen to the action here!
Tags: