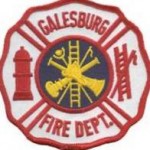 The Galesburg Fire Department was once again dominant in collecting donations for the Muscular Dystrophy Association.
Despite the COVID-19 pandemic keeping firefighters off intersections with their boots, as they would in a normal year, the GFD Local 555 raised over $15,000. That more than any other department in the state of Illinois. 
For 66 years the International Association of Firefighters has collected critical funds as a part of the Fill the Boot campaign for MDA.
Galesburg Firefighters hope to have an in-person boot drive this fall but their virtual campaign is up and running and you can give by going to filltheboot.donordrive.com/team/GalesburgFireLocal555