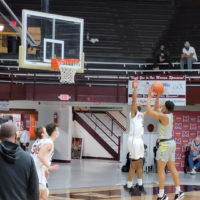 The Moline Maroons handed the Galesburg Silver Streaks boys basketball team its second loss in three games Saturday night 80-59 at Wharton Fieldhouse, in what was a tough week for GHS.
A run at the end of the first quarter gave Moline the lead that they would not relinquish.  Up 13-12, the Streaks saw Moline rattle off the next 12 points to build a 10 point early second quarter lead.  Other than dropping down to an eight point deficit once midway through the second quarter, the Maroons had that double-digit lead for the rest of the night.
Moline improved to 8-2 overall, and 6-2 in the Western Big 6.  The Maroons were led by four players in double figures.
Demarco Harden led the Streaks offensively with 12, Jeremiah Babers with 11, and Dre Egipciaco with 10.  Aidan Wagner was our Dave's Autobody Crunch Time Player of the Game, bringing great energy off the bench in the third quarter, on a night when the Streaks had none of it to speak of otherwise.
The Streaks dropped to 6-2 overall and in the WB6.
The Streaks sophomores and freshmen also lost their games.
Next up for the Streaks in the second of three straight road games is Sterling on Tuesday night.  You can hear the varsity game starting at 7:06pm on WGIL.
Miss tonight's game?  Listen to the action here!
Tags: