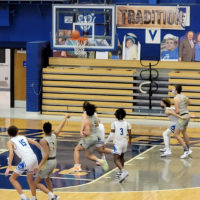 A 35-35 tie game at the half turned into a Galesburg Silver Streaks boys basketball team 72-64 win against the Quincy Blue Devils Friday night.  It was a win on the road for the Streaks, who improve to 7-3 overall and in the Western Big 6 conference.
The Blue Devils put together a little bit of a run in the third quarter, tying the game at 42.  But, the Streaks went on a 10-2 run to go up 52-44 with a little more than a minute to go in the third.  They took a six point lead into the fourth quarter, building a double-digit lead, then knocking down free-throws en route to victory.
Jeremiah Babers had a career-high 18 points in the game, including a three-point heave just in front of the scoring table, about 40 feet away from the basket, at the halftime buzzer to tie the game at 35.  he carried that three-point shooting into the second half, and finished four for five from behind the arc.
Kyleb Meadows had his biggest offensive game of the season.  He hit three three-pointers; but, more importantly, he was six for six from the free throw line in the fourth quarter to secure the Streaks victory, as he finished with 17.
Eric Price had a double-double.  One of the leading scorers, rebounders, and stealers in the WB6 finished with 16 points and 12 rebounds.
Our Dave's Autobody Crunch Time Player of the Game was Carl Dortch.  He had four points, four rebounds, and a huge fourth quarter.  When Koen Derry got in foul trouble guarding the leading scorer in the WB6 Jeremiah Talton, Dortch came in and quieted Talton offensively, and had a couple big baskets of his own, along with three of his four rebounds.
Quincy falls to 2-9 on the season.
The GHS freshman and sophomores both lost their games against Quincy Friday night.
The Streaks play back at home Saturday night against United Township.  You can hear the varsity contest starting at 7:06pm on WGIL.
Miss tonight's game?  Listen to the action here!
Tags: