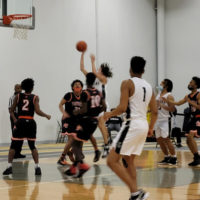 As energetic and as strong of a finish the Galesburg High School boys basketball team put together Friday night against Quincy, it was difficult to replicate that back at home on Saturday night against the United Township Panthers, as the Streaks fell to UT 58-47.
Part of the story of the game was an almost incomprehensible complete reversal of shooting. When the Streaks won at United Township a couple weeks ago, the Panthers were three of 25 from three-point range on their home floor.  In the Streaks loss to UT at home Saturday, it was much the same thing for Galesburg — three of 26 from three-point range — part of the reason they just couldn't put together any sort of offensive run to threaten the Panthers.
UT is now 10-4 on the season.  Darius Rogers led the Panthers with 25 points.
Meanwhile, for the Silver Streaks, our Dave's Autobody Crunch Time Player of the Game — Eric Price — led the way with 21 points and eight rebounds.  The Streaks senior became the 19th GHS Boys Basketball player to cross 1,000 points for his career in the loss.
The Streaks fall to 7-4 on the season.
The GHS sophomores defeated United Township 56-53.
Next up for the Streaks is Rock Island Alleman at home Tuesday night, the final home game of the pandemic-altered season.  Then, the Streaks travel to Rock Island Friday, and finish up the regular season at Alleman on Saturday.  You can hear Tuesday night's varsity game starting at around 7:10pm on WGIL.
Miss tonight's game?  Listen to the action here!
Tags: