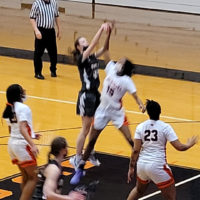 The Galesburg Silver Streaks girls basketball team fell to the United Township Panthers in East Moline Saturday night, 61-59.
It was a close game throughout, with the Streaks jumping out to a 19-14 lead at the end of the first quarter.  They were outscored 16-12 in the second quarter, resulting in a 31-31 tie at the half.  The teams played even in the third quarter, scoring 15 points apiece and being tied at 46 heading into the final eight minutes.  United Township was able to outscore the Streaks 15-13 in the 4th, resulting in the victory.
The Streaks had 16 turnovers in the game, with 17 for United Township.  Both teams struggled from the free-throw line — the Streaks just 10 of 16, while UT was four of 12.
Three point shots kept United Township in the game, especially late in the first quarter and throughout the second quarter.  They were seven for nine from behind the arc in the first half, ending up with just eight for the game.
Audree Peck led the Streaks with 16 points, eight rebounds, and three blocked shots.  She was our Dave's Autobody Crunch Time Player of the Game because she gave the Streaks four of their first six points, and six of their first eight, with 12 of her points coming in the first half.
Abby Davidson had 15 points — five baskets and was five for eight from the free throw line.  She also pulled down six rebounds.
Lauren Livingston had 11 points, five rebounds, four assists, and four steals.  Kadynce Lydic was in double figures with 11 points, five assists, and five steals.
Galesburg is now 10-5 on the season, and 6-5 in the Western Big 6 Conference.  Their next game will be Tuesday night against the Alleman Pioneers in Rock Island. You can hear the varsity game starting at 7:10pm on 92.7 FM The Laser.
The GHS sophomores were a 48-30 winner over UT Saturday night.
Miss tonight's varsity game?  Listen to the action here!
Tags: