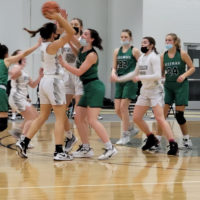 The Galesburg Silver Streaks girls basketball team finished the season on a high note Saturday, defeating the Rock Island Alleman Pioneers 63-33.  Galesburg ends the year with a 12-6 record overall, and 8-6 in the Western Big 6 Conference.
A huge third and fourth quarter propelled the Streaks to victory, ending up with a continuous clock in the fourth quarter.  The Streaks led 15-10 after the first quarter, and outscored Alleman 24-6 in the second quarter, for a 39-16 halftime lead.  The Streaks outscored Alleman 17-7 in the third quarter for a 56-23 lead going into the final eight minutes.
It was a freshman and a senior leading the way for the Streaks.  Lauren Livingston — the senior — scored 16 points and got nine rebounds, four assists, and two steals.  Freshman Kiarra Kilgore also had 16 points, along with eight rebounds, an assist, and a steal.  The two were our co-Dave's Autobody Crunch Time Players of the Game.
Galesburg shot the ball very well, ending up 25 out of 43 from the field.  They had four three-pointers in the game.
One player for the Pioneers ended up in double figures — junior Avrie Schmidt with 18 points.  The Pioneers were 11 for 17 from the free throw line, while the Streaks were nine of 16.
The Streaks turned the ball over seven times, versus Alleman's 10.
The GHS sophomores won Saturday night 34-26.
Miss tonight's game?  Listen to the action here!
Tags: