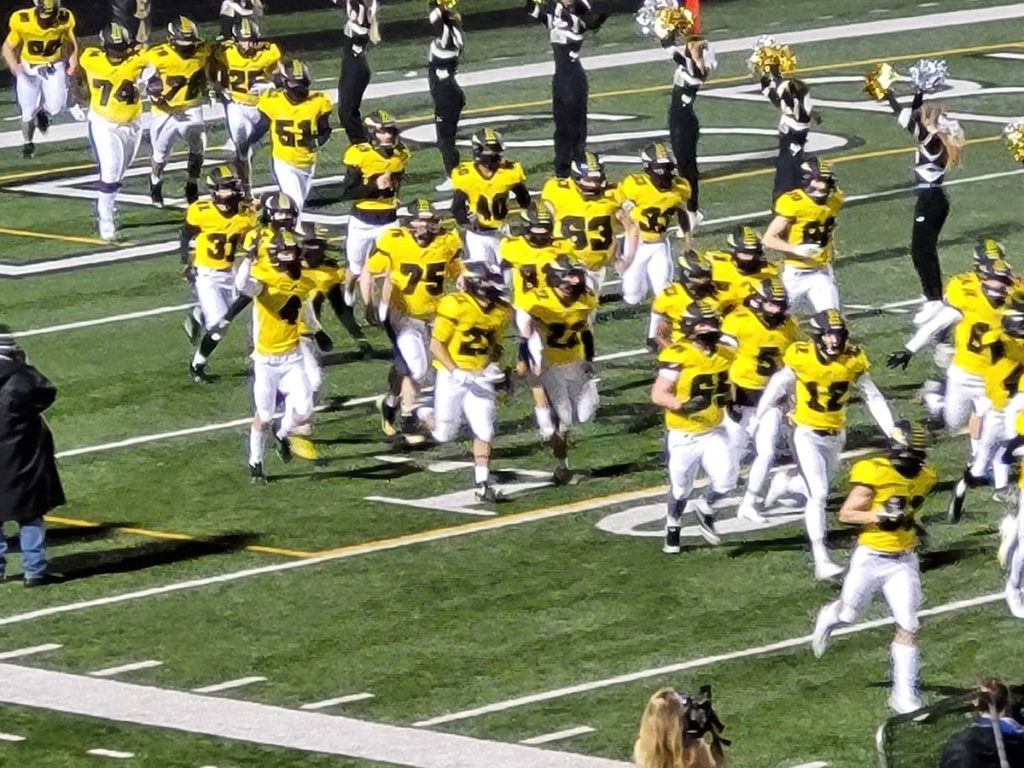 The Galesburg Silver Streaks football team celebrated a very successful Senior Night in its home opener Friday, with a 46-17 victory over the Quincy Blue Devils.
The game did have some concern for the Streaks.   Starting Quarterback Grant Aten, a Junior, went out with an injury early in the game.  He was replaced by Sophomore Quarterback Tristan Legate, who lit up the Quincy defense for 239 yards passing and three touchdowns, aided by four Silver Streaks rushing touchdowns, as Galesburg moved to 2-0 for the first time since 1982.
Alex Egipciaco led the Streaks on the ground with 70 yards rushing and two touchdowns.  Kyron Leath had 65 yards rushing and one touchdown.  Damian Thomas also had a rushing touchdown.  Hunter DeVena had two touchdown receptions for 81 yards.  Dre Egipciaco went over 100 yards with four receptions, including a 37 yard touchdown.
For his performance, Tristan Legate was our Dave's Autobody Crunch Time Player of the Game — coming in for the injured Aten, for a fourth down play that was a 34 yard pass play to Koen Derry that set up the Silver Streaks' third rushing touchdown of the night.
The Freshman game ended in a 22-22 tie between the Streaks and Quincy.
Next up for Galesburg, they travel to Rock Island on Good Friday.  Both teams are 2-0.  Hear the varsity contest starting at approximately 6:30pm on WGIL and WGIL.com.
Miss tonight's game?  Listen to the action here!
Tags: