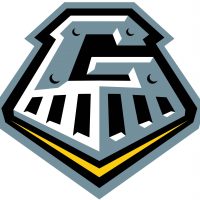 Turnovers were, ultimately, the story, as the Galesburg Silver Streaks fell Friday night for the first time this season, 34-21 at Rock Island.
The game was tied at 21 in the third quarter, when Rock Island took the lead for good.  The Silver Streaks were moving the ball down field late in the third on just their second possession in the second half, then fumbled the ball away inside the ten yard line.  Two plays later, the Rocks scored on a 94 yard pass play for the 34-21 lead.  The Silver Streaks in desperation time — "chasing points," as Coach Mike Washabaugh calls it — ended up throwing an interception that took away their last chance at any kind of a comeback.
Kyron Leath led the Streaks offensively with 93 yards rushing and a touchdown.  Alex Egipciaco followed with 91 yards and a touchdown.  Our Dave's Autobody Crunch Time Player of the Game was Hunter Devena.  He had two blocked punts and almost returned one of them for a touchdown, and also had a receiving touchdown for the Silver Streaks on a deflection in the end zone when he outfought a Rock Island defensive back to secure the score.
The Streaks varsity dropped to 2-1 on the season.  There was not a freshman game played due to Rock Island COVID protocols.
The Silver Streaks will be at home next Friday night when the Moline Maroons come to town.  We'll have the varsity game starting with pregame coverage at 6:30pm, and the kickoff at 7pm, all on WGIL and WGIL.com.
Miss tonight's game?  Listen to the action here!
Tags: