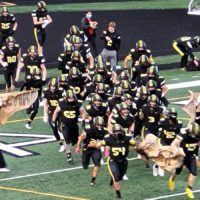 What started out as a back-and-forth game in the first half between the Galesburg Silver Streaks and the Moline Maroons Friday night, turned into a "grind it out" game in the second half, which found Moline winning in the end at Vandyke Field 27-24.
The two teams exchanged scores in the first half. Moline scored on three of their first five possessions, with the Streaks scoring on three of their first four possessions, including a 92 yard kickoff return by Dre Egipciaco, and three turnovers, one of which led to a field goal.
But, it was Moline controlling the ball through the air. Quarterback Alec Ponder threw for 356 yards and four touchdowns, including two to Matthew Bailey for 141 yards, as the Maroons held off the Silver Streaks late.
Rockyen Spinks had an early fourth quarter touchdown that denied a Moline score and gave the Streaks a chance to regain the lead. For that play, Spinks was our Dave's Autobody Crunch Time Player of the Game.
The Streaks dropped to 2-2 on the season. They'll take on a United Township team that has won two straight, versus two straight losses for the Streaks. You can hear next Friday's varsity game starting at approximately 6:30pm on WGIL and WGIL.com.
A Freshman game was not played Friday night.
Miss the varsity game? Listen to all the action here!
Tags: