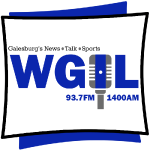 Northwoods Community Church in Galesburg is not going anywhere, yet they now have to find a new name and a new building. 
School board members for District 205 approved the purchase to buy what is now Northwoods at 940 W. Fremont St. on Thursday. 
Besides already housing vocational classes, 205 leadership says it could be home to Bright Futures Pre-K, or even the district offices. 
But members of the local congregation were shocked at the news.
Associate Pastor at the Galesburg location Jeremie Kilgore says he was just as surprised as anyone to learn of the purchase.
The Galesburg congregation had made an offer of $1.3 million to the Peoria Northwoods Church to purchase the building after recently branching off from the satellite church.
Kilgore says 205's purchase was triggered by Northwoods Galesburg going independent and then making an offer to buy the building.
District 205 had in their lease agreement a "right of first refusal" to purchase the building, which they exercised on Thursday.
205's price was $1.3 million because that's what the local congregation offered.
Northwoods Galesburg just celebrated a decade on April 24, and for the duration, they've been open most messages at services were delivered by video from the Peoria campus, with music and announcements being given locally.
Weeks ago that changed after their independence became official. 
Both Peoria's Senior Pastor, Cal Rychener, and Galesburg, Andrew Wingo say this transition is part of a "Grander Vision" movement. 
Rychener says that they believe "the best way to bring hope and healing to communities is through the power of effective local churches." 
He explains they have a "vision to plant 20 thriving churches through the Midwest and 3,000 globally by 2030."
That is a departure from what Northwoods leadership said in 2010 before the Galesburg location opened. 
Church leadership made a clear distinction that Galesburg was not a "church plant" but a "multi-site church".
Reporting from The Register-Mail in July 2010, says "The Northwoods website explains…" A church plant would have its own teaching pastor, church government, etc. The Northwoods multi-site initiative in Galesburg will not be autonomous from Northwoods Peoria. Northwoods Galesburg will simply be an extension of Northwoods Peoria under the same teaching, leadership, and church government."
They don't make clear why they severed ties with the Galesburg branch.
Galesburg Pastor Andrew Wingo says they're grateful for "all they have learned", and are "excited for what God has in store for us next."
Kilgore says leadership has already had conversations about a new name but isn't ready to reveal those quite yet. 
They also now will have to find a new place to meet but not immediately.
The contract will be executed in a month, and the purchase will technically not be made until June.