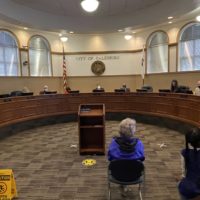 Jaclyn Smith-Esters had been chosen by now Mayor Peter Schwartzman as his replacement as 5th Ward Alderman. But on Monday four council members derailed that pick, at least temporarily.
The four council members that endorsed former Mayor John Pritchard's re-election; Bradley Hix, Wayne Dennis, Lindsay Hillery voted no while Larry Cox abstained. In the case of an abstention, a vote counts with the prevailing side, so Smith-Esters appointment was defeated 2-4.
After voting the appointment down, and some confusion on how to proceed, the entire council voted to table the nomination until May 17.
No aldermen gave any stated reason for opposing Smith-Esters.
If the Council ultimately refuses to seat Smith-Esters, Schwartzman can then appoint someone else.
If the second person is not approved by the council, the mayor could then, without consent or approval, appoint either of the candidates to fill the end of the term.