The Monmouth City Council next month will consider vacating one block of West Archer Avenue for the construction of a new gymnasium for Immaculate Conception School.
The school's plans would have the new gym built on the north side of Archer Avenue and the desire of the school is to build a hallway extending across Archer to the facility to the south of the road.
Neighbors of school went before the council on Monday, mostly speaking out against the closure of Archer as it could disrupt the flow of traffic and create visual obstructions.
Principal Randy Frakes presented to the council, detailing what the school would do with the property and how the school and students would benefit from the closure of the block, one aspect being student safety.
By removing West Archer, school officials say this will provide safety to students moving from one building to the other, not requiring them to step outside and cross a road.
The connection would also limit the number of entrances and exits within the school.
Additionally, the school and Immaculate Conception Church have been buying properties and removing rundown properties to enhance the visual appeal of the neighborhood.
The City Council approved having the City Attorney, Marcum Spears, draft an ordinance for the council to consider at their next meeting on Monday, June 7.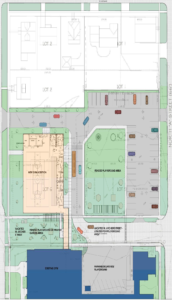 Tags: