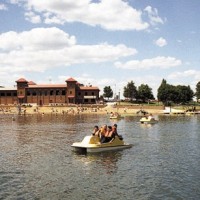 Galesburg Aldermen on Monday night voted to remove funding for further study of expanding Lake Storey.
The votes for removing the funding were:  Sarah Davis, Wayne Dennis, and Jaclyn Smith-Esters.
Those wishing to keep the funding were Bradley Hix and Larry Cox. Dwight White was the lone abstention and Lindsay Hillery was not present.
Alderman Hix says the project could have increased Galesburg's property tax base by an estimated $5 million if the project was completed in the next 7 years.
"With an aging community, a lot more people are getting seniors freezes and exemptions that's going to be tightening our property tax revenue," Hix says.
Hix and Larry Cox were the two votes to keep the funding, although their votes weren't necessarily endorsements of the expansion.
Cox says this might be the right time for an expansion like this, but says he won't stop trying to make Galesburg a great place.
Dennis said he called almost 100 constituents and overwhelmingly they were opposed.
Dwight White and Sarah Davis both said they wanted to help Galesburg grow, but they were concerned that this project doesn't necessarily benefit the city's most vulnerable residents.
Former Councilmember Corine Andersen spoke and said there's virtue in studying ways to utilize to Lake Storey.
Andersen what's most troubled her about this months-long discussion is the division it's sowed.
"Let the quarrels be water under the dam and I suggest we start anew together," Andersen says.
She thinks there's a chance that there might be some agreement for a smaller project, like expanding the park.