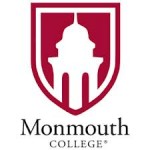 Monmouth College will be celebrating the class of 2020 as a part of their 2021 homecoming celebration this weekend.
The graduating class was denied a traditional ceremony because of COVID-19. But on Sunday to cap off homecoming weekend about 70 members of Class of 2020 are expected to return for a ceremony at 11 AM Sunday on the Wallace Hall plaza.
There also be plenty of traditional homecoming activities though.
Some of those include award ceremonies, reunions, a parade, football game, and two concerts.
Also Illinois State Senator Mattie Hunter '76 and renowned phrenologist Dr. Frederick Kaskel '67 will be inducted into the Hall of Achievement
That is the highest honor the college bestows upon its graduates. Also, alumni impact awards which will be given at 5:30 PM on Friday in the Huff Center.
Receiving alumni impact awards include farmer and agriculture industry advocate, Wendell Shauman, Monmouth College editor and historian Jeff Rankin, as well as all-time passing leader for the Fighting Scot's football team Alex Tanney.
Tanney is now an assistant coach for the Philadelphia Eagles.