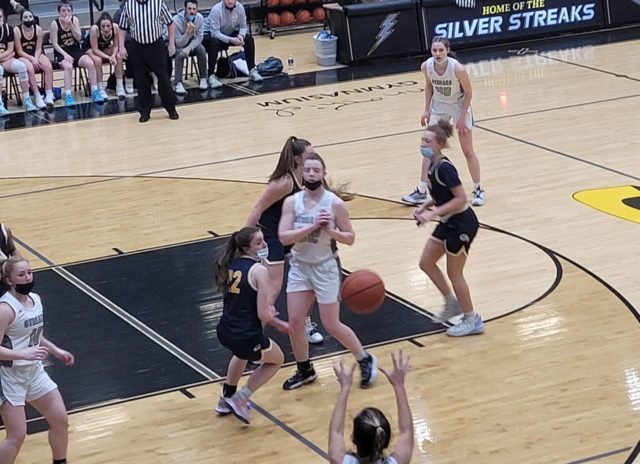 The Galesburg Silver Streaks girls basketball team had their Senior Night and regular season finale Wednesday in a Western Big 6 matchup between the Sterling Golden Warriors. The Streaks started off slow, but began to ran away with the game in the second half resulting in a 63-20 continuous clock win.
The Streaks finish the regular season at 21-10 and finish with a conference record of 8-6.
Sophomore Kiarra Kilgore led the way with 22 points, 8 rebounds 3 steals and 3 assists. Tom Meredith and Erik Gibson selected all the Seniors as the Dave's Auto Body Crunch-Time Players of the Game. Grace Nelson, Kadynce Lydic, Abby Lingafelter and Abby Davidson all contributed to the Streaks victory finishing with a combined 20 points. Grace finished with 5 points, 2 rebounds, 1 steal, and 3 assist. Kadynce finished with 5 points, 6 steals, and 2 assists. Abby Lingafelter finished with 4 points, 6 rebounds, and 2 steals. Abby Davidson finished with 8 points, 5 blocks, 1 steal, 1 assist, and 4 rebounds. The seniors and Kiarra all played just three quarters. The Streaks open regional play at Sterling next Tuesday night as they'll take on the LaSalle-Peru Cavaliers.
Click to listen to a replay of the game:
Tags: