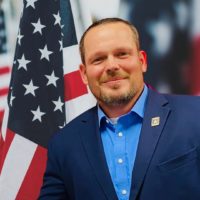 Republican candidate for Knox County Sheriff Jack Harlan has received a number of early endorsements in his campaign, including by the Fraternal Order of Police #427.
FOP is the world's largest organization of sworn law enforcement officers, with over 356,000 members in more than 2,100 lodges.
The 427 Board voted unanimously in their endorsement.
He's also received a slate of endorsements from Republican politicians and local elected officials.
Some of those local officials include Galesburg Ward 1 Alderman Bradley Hix, Abingdon Mayor Ed Swearingen, and Knoxville Mayor Toby Myers.
When it comes to state and federal officials, Harlan has the support of Republicans like Rep. Dan Swanson, Sen. Win Stoller, former Senator Chuck Weaver and U.S. Rep Darin LaHood.
Harlan was a U.S. Army veteran who joined the Knox County Sheriff's Department after retirement as First Sargeant.
He now is a Detective and K9 hander with the Sheriff's Department and was named Knox County Deputy of the year for 2020.