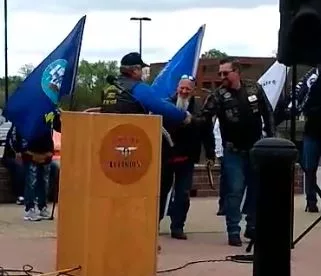 Republican State Representative Dan Swanson of Alpha was recognized last weekend as 2022 Representative of the Year by the Illinois Chapter of A.B.A.T.E., or A Brotherhood Aimed Towards Education.
Swanson was recognized during the organization's Freedom Rally in Springfield and was presented with a special leather vest for the annual recognition with A.B.A.T.E. members from around the state.
State Legislative Coordinator for A.B.A.T.E., Josh Witkowski, spoke of Swanson's support for motorcycle enthusiasts' safety by putting up banners for years on his farm.
Swanson said he was proud to accept the honor and looked forward to working to preserve the right to, quote, "a safe, unrestricted motorcycling environment."
He spoke of concerns regarding driverless cars and trucks on Illinois highways and for safety concerns for cyclists, pedestrians, and other motorists.
Swanson also spoke on House Bill 2940, which allows for electric motorcycles, and his support for the fight to lower the license plate fees for motorcycles back down to under 100 dollars.
During the presentation, Swanson asked for a moment of silence in honor of fallen Knox County Sheriff's Deputy Nicholas Weist, killed in the line of duty on April 29 by a fleeing suspect's vehicle as he was trying to lay down spike strips on US Highway 150.