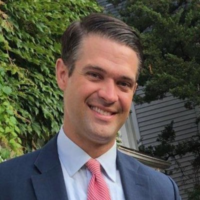 Jonathan Logemann is a Democratic candidate for U.S. Congress in the 17th District in Illinois, the seat currently occupied by Cheri Bustos.
Logemann is running in a crowded field on the Democratic side; facing Eric Sorensen, Litesa Wallace, Angie Normoyle, Marsha Williams, and Jacqueline McGowan.
WGIL talked to Logemann on Wednesday about his experience as a teacher, soldier, and Alderman and how he thinks that could set him apart from his opponents.