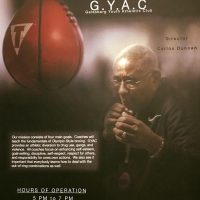 A celebration of life for local boxing coach and youth advocate Carlos Duncan who passed away on July 2 is coming up this Friday, Aug 6 at 5 p.m. at Bethesda Missionary Baptist Church.
Rev. Andrew Jowers says this is an opportunity for those whose lives were touched by Carlos Duncan to share their memories.
Andrew Jowers and Jim Jacobs joined Galesburg's Evenings News on Monday to talk about the memorial plans and the life and legacy of Duncan.