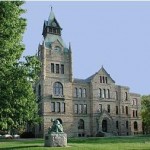 Five individuals found mentally unfit to stand trial have finally been moved from the Knox County Jail into the Illinois Department of Human Services custody.
State's Attorney Jeremy Karlin had filed complaint petitions for all 5.
IDHS officials were supposed to appear in Knox County Court for a hearing on Thursday but it was canceled because the point was now moot.
Judge Curtis Lane said he wouldn't hesitate in the future to sign orders for IDHS to appear in court if they fail to timely comply with Illinois law.
Related to the same issue on Thursday, a Circuit Judge in Sangamon County entered a temporary restraining order in the case of six Illinois Sheriffs' suing Gov. J.B. Pritzker.
Knox County Sheriff David Clague is one of the six plaintiffs.
The Sheriffs allege IDHS has not been complying with a mandatory 20-day period for transporting mentally ill inmates from county jails into state custody.
They say this has caused these counties to incur additional costs while holding defendants awaiting placement in DHS.
They also allege the delays have endangered the safety of inmates and jail personnel and reduced the likelihood of restoring unfit defendants to fitness within one year.
But Thursday morning Circuit Judge Karen Tharp entered a temporary restraining order against Pritzker and the IDHS Secretary.