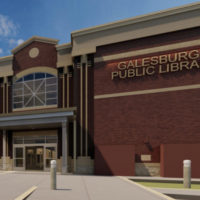 The Galesburg Public Library is getting a $50,000 grant courtesy of T-Mobile to create a Skills Lab in the new library.
The grant will also cover other equipment that will help prepare the community workforce.
The grant was announced Thursday along with projects in 24 other small towns as a part of T-Mobile's Hometown Grants program.
The grant program aims to jumpstart vital community development projects through a five-year $25 million initiative. 
Galesburg Mayor Peter Schwartzman says in a news release the "new library will transform the community in a variety of ways."
He says Galesburg "residents will have much better access to the materials, tools, and programs that will enable them to contribute constructively to our community."
The Skills Lab will be an interactive classroom for adults and teens to use tools and training simulators to develop skills for either the workforce or to thrive independently.