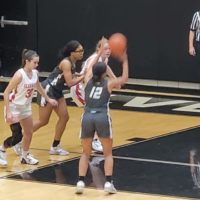 The Galesburg Silver Streaks girls basketball team came from behind for a hard-fought win against the Chatham-Glenwood Titans on Saturday (11/19) in the Galesburg Thanksgiving Tournament at John Thiel Gym. The Streaks are 3-0 on the young season.
The Dave's Auto Body Crunch-Time Player of the Game was Senior, Capre Ferguson. She helped trigger a big run for the Streaks in the 3rd quarter that really turned the momentum in their favor. Capre had 10 points, 6 rebounds, 3 steals, and an assist in the game with strong play on both offense and defense.
The GHS girls play again tonight (11/19) in the Thanksgiving Tournament against Washington. Tom Meredith and Erik Gibson bring you the action at around 7:10pm on 93.7 FM, 1400 AM WGIL and wgil.com.
Click play below to listen to the game broadcast:
Tags: