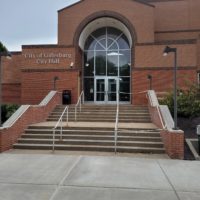 A potential developer is in the early stages of talks for a portion of the Galesburg Business Park that would be a nearly $48 million infrastructure investment.
The City Council on Monday approved an application for nearly $24 million in grant funding from the Federal Railroad Administration, and the rest would be covered by the developer.
This is the same project the Council sought grant funding for back in May through the U.S. Department of Transportation.
That grant wasn't successful so this is an attempt to get funding from another source.
The city would act as a pass-through entity. The grant application was necessary in order for the potential project to move forward.
But what Aldermen approved doesn't obligate the city in any way financially.
If the project was selected for funding, the City would then negotiate an agreement with the developer and also approve a formal grant agreement with the FRA, both of which would need Council approval.
But if the project isn't selected, the project pretty much goes by the wayside.
While not much is known about the developer, council documents say it's an agricultural/rail project that will positively impact regional agricultural producers.
The grant funding would cover the construction of a 15,000-foot loop track and related infrastructure.