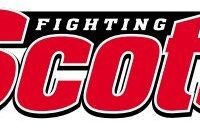 MONMOUTH, ILL. (02/08/2023) The Monmouth College men's basketball team put all five players in double figures and completed the season sweep of Knox with an 86-80 home win on Wednesday. The Fighting Scots (13-10, 9-5) are in third place in the Midwest Conference with two games left to play in the regular season.
Knox scored first but Delcan Flynn (Monmouth, Illinois) put the Scots up 3-2 with a 3-pointer from well beyond the arc. Jordan Metcalf (Aledo, Illinois) made two free throws and Kendall Brasfield (Chicago, Illinois) had a 3-point play for an 8-4 lead. Knox scored the next five and pushed the lead to 13-10 as Monmouth called timeout. The visitors went on a 6-4 run as Brasfield scored all of Monmouth's points. Turner Plumer (Canton, Illinois) scored on a putback and Brasfield picked off a pass for a layup. Ganon Greenman (Alpha, Illinois) made a free throw and Jordan Hill (Chicago, Illinois) hit a 3-pointer for a 22-21 Monmouth lead.
Kyle Taylor (Moline Illinois) hit a 3-pointer to put the Scots back on top 25-23. Knox took the lead back and pushed it to 30-27 before Flynn scored five in a row to tie the game. Taylor hit another 3-pointer for a 35-32 Monmouth lead and then hit another, deeper three. Yuvraj Sidhu (Coppell Texas) made a hook shot and Metcalf got another free throw as the Scots took a 41-39 lead into halftime.
David Williams (Loves Park, Illinois) hit a 3-pointer to start the second half and Brasfield made a shot in the lane for a 46-43 Monmouth lead. Metcalf made a bucket in the lane and Williams hit four straight free throws for a 52-46 lead. Knox scored five in a row before Flynn had a 3-point play. Knox responded with a basket, tying the game at 55. Greenman scored on a putback to give Monmouth the lead and Brasfield made a layup for a 59-56 lead.
With the game tied at 62, Sidhu got a strip steal at mid court and took the ball all the way in for a layup before Knox tied the game.Monmouth twice missed the front end of a 1-and-1 and Flynn buried a 3-pointer for a 67-64 lead. Taylor stole the ball and fed Brasfield on the break for a dunk and a 69-64 lead. Metcalf had a 3-point play for a 72-64 lead but Knox hit two straight 3-pointers to close the gap back to two. Williams hit a pair of free throws with 3:09 to play for a 74-70 Monmouth lead. Up one, Brasfield knocked down a 3-pointer from the corner and Knox got a layup with under two minutes to play. Metcalf converted a 3-point play for an 80-75 lead. After a missed Knox free throw Taylor hit a runner in the lane for an 82-75 lead. Knox missed another free throw with 45 seconds left. Williams made two free throws and Knox answered with a jumper for an 84-78 game. Monmouth missed two free throws and Knox made two, giving Monmouth a four-point lead. Williams hit two more free throws with 2.4 seconds left for the 86-80 win and season sweep.
Brasfield led the Scots with 18 points while Metcalf had an 11-point, 10-rebound double double. Flynn had 14 points and seven rebounds while Williams added 13 points and Taylor had 11. Williams had four assists, one more than Taylor and Brasfield who both had two steals. Metcalf blocked a career-high four shots and Flynn had two blocks.
MONMOUTH MOMENTS: This was the 227th all-time meeting, tied for 10th all-time between Division III teamsMonmouth leads the series 134-93Coach Skrivseth is 16-6 against Knox, 9-2 at home, more wins than against any other opponent in his time at MonmouthMetcalf had a career-high four blocks and he's had at least two blocks in three straight gamesMetcalf has 77 career blocks fifth most in school historyWilliams was 10-for-10 at the free throw lineMetcalf has all eight of Monmouth's double-doubles this season and two of them came against KnoxThe Scots made 10 3-pointersThe Scots scored 22 points off 14 Knox turnoversMonmouth went 9-5 at home this seasonThe win assures the Scots of finishing at least .500 on the seasonMonmouth plays at Ripon on Saturday afternoon following the women's 1 p.m. game against the Red Hawks.