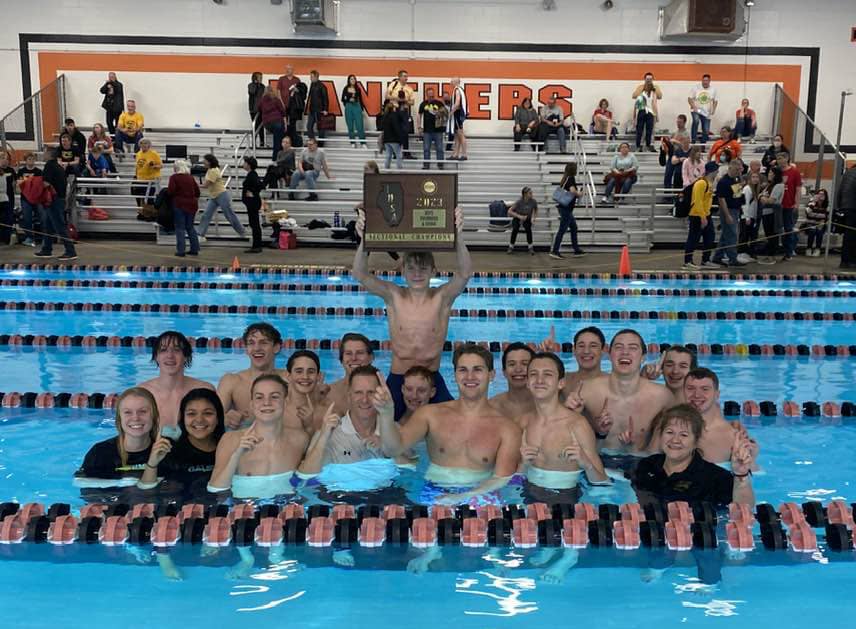 Galesburg High School qualified six entries for state en route to claiming the team championship at the IHSA Boys Swimming and Diving Sectionals on Saturday at United Township High School in East Moline.
Advancing to the IHSA Boys State Swimming and Diving Championships are Riley Stevenson in the 50 and 100 free, Carson Olson in the 200 IM, Andrew Hawkinson in the 500 free and also the 200 medley relay team. Andrew Peterson finished second in diving and advanced to state by placing in the top 30 among all scores in the state.
The Streaks won the team title with 287 points, 17 points ahead of runner-up Dunlap in the 13-team field. Galesburg's Ray VanHootegem was named sectional coach of the year.
"The entire team swam great," VanHootegem said. "Everyone played a role in winning the sectional.
"There were too many stand out performances to single any of them out. Everyone on our team scored points. I am very proud of them all. It's been a great experience to coach this team."
The Streaks set numerous records Saturday.
Diving:  Andrew Peterson beat his record from Western Big 6 by 9 points -400.30
200 Medley Relay: Riley Stevenson, Luke Thomas, Carson Olson, Luke Foster 1:38.32. Previous record was 1:41.28 in 1999.
200 IM: Carson Olson went 1:59.23. Previous  record from Pete Peters 1:59.27 in 1996
50 free: Riley Steveson 21.25. Previous record Wilson Burton Record of 21.27 in 2017.
100 Free: Riley Stevenson 47.03.  Previous record David Anderson 47.57 in 2006
500 free: Andrew Hawkinson 4:53.36. Previous record Jarad Hallam 4:58.30  in 2004.bCarson Olson also beat the team record with his time of 4:54.61 but finished second behind Hawkinson.
The IHSA State Swimming and Diving Championships are set for Feb. 24-25 at Westmont.