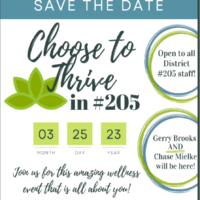 Galesburg District 205 is giving educators a chance to "fill their cup" at the 2nd Annual Choose to Thrive in #205.
Director of Staff and Student Services Mindi Ritchie talks to WGIL about the need for this event, what attendees can expect and why they decided to open up this year's event to teachers in districts outside of Galesburg.
Learn more about Choose to Thrive in #205 here.