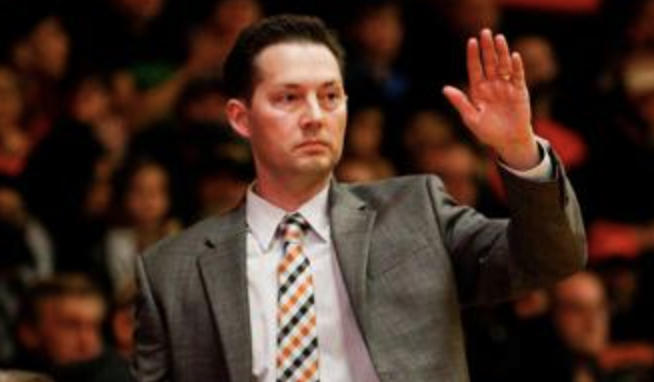 By Matt Coss
Moline Dispatch/Rock Island Argus
Less than a month after resigning as the boys' basketball coach at United Township High School, Ryan Webber is back in the game.
Different state. Different school. Even a different gender.
Pending board approval, the 42-year-old Webber — who has spent a good portion of his career roaming the sidelines in the Western Big 6 Conference coaching boys' basketball — will be the next girls' coach at Bettendorf High School.  Webber is a 1997 Galesburg High School graduate and former Silver Streaks basketball player.
When Webber stepped down at UT last month, he said the decision was made to spend more time at home and watch his two daughters — Olivia, a sophomore at Pleasant Valley, and Avery, a seventh-grader — compete. He saw Olivia play only three basketball games this past winter.
Now, he'll get an opportunity to remain on the sideline and get that coveted family time.
Webber, whose family lives just a couple minutes from Bettendorf High School, said Olivia will transfer to Bettendorf and play for him next season.
"The amount of things it impacts from a family dynamic, it was too good to be true," Webber said. "Bettendorf is such a great school with great tradition. It was at least worth listening."
The opportunity came about in the last week following Brian Tritt's resignation after seven seasons.
Webber has spent his entire career around boys' basketball, with head coaching stops at Byron, Moline, Warren Township and United Township (nearly 340 combined wins). He admitted he's remained pretty "hands off" in coaching his own daughters.
"The intensity and energy of the Western Big 6 is a beast in itself," Webber said. "I'm excited to change gears. I love watching my daughter play, I love watching her teammates play, and I'm a big fan of women's basketball. I was captivated by the women's (NCAA) tournament this year."
Webber has sought the counsel of close friends — Galesburg's Evan Massey, Riverdale's Jay Hatch, former Rock Island coach Thom Sigel and others — about coaching girls basketball or having the opportunity to coach their son or daughter.
"They all either said, 'I absolutely cherished the time I got to coach my own kids' or it was, 'My one regret in coaching was I didn't get to coach my own kids,'" Webber said. "That stuck with me.
"When my wife and I talked, 15 years from now, are we going to regret bypassing an opportunity to continue coaching and coach our own girls and share experiences with them that we'll have forever? I don't know if the stars aligned, but we had to listen and we all jumped on board."
Webber said there have been too many car rides to count in recent years when Olivia would mention she wanted to play for her dad.
"We have so much fun in the gym, and you've got to listen to that," Webber stated. "I'm excited we can share the gym together, but she understands she's going to have to earn every single thing she gets. She knows how competitive I am and we want to win.
"But to have our family now under one umbrella, that's a great feeling. I've got a couple happy girls at home, so that makes me happy."
Webber will remain as a physical education teacher at United Township.
He walks into a conference loaded with talent.
Pleasant Valley is the reigning Iowa Class 5A state champion and Davenport North returns almost its entire squad from a state tournament team. Assumption and Central DeWitt have proven underclassmen while North Scott has been a fixture in the upper-half of the league.
Bettendorf was 9-9 in the Mississippi Athletic Conference this past season, but it graduates four of its five starters.
"There is that great unknown which is intriguing to me," Webber said. "Everybody is going to have a clean slate. I know they've been well-coached in the past, and they've got some talent there.
"I know a lot of the girls from having watched Olivia play against them growing up in (volleyball and basketball). The most important thing is, I've got to learn them. I've got to sit back, shut up and watch them and let them do what they do well and present their skill sets to me."
This story is being republished with permission from the Moline Dispatch/Rock Island Argus.