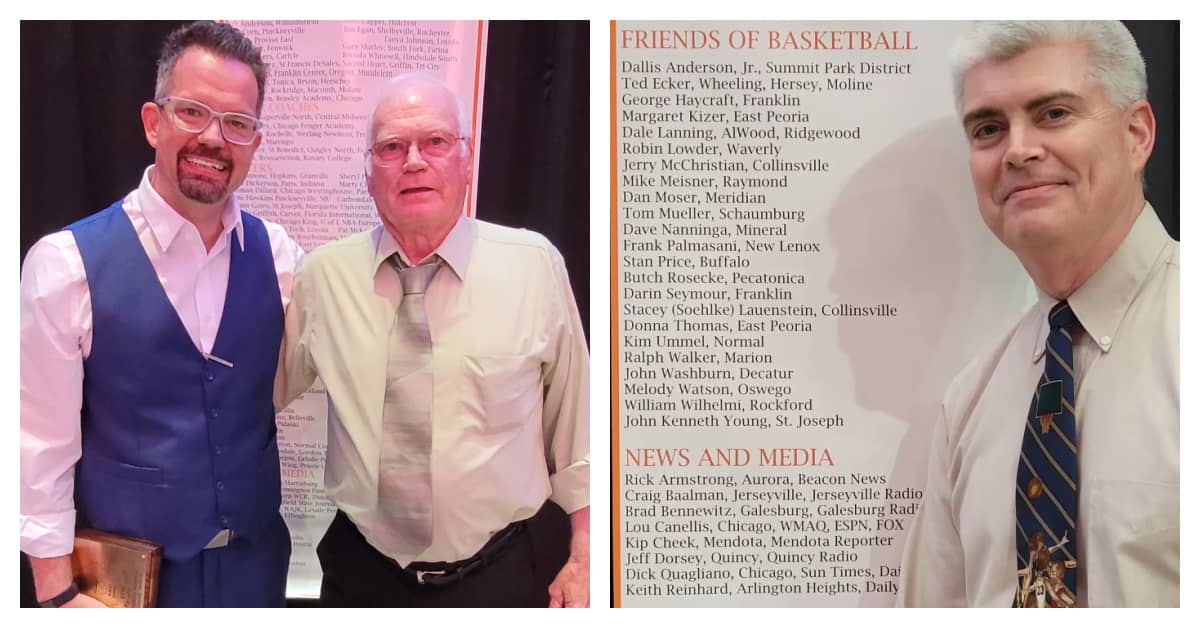 A longtime Galesburg sports broadcaster and a former Williamsfield basketball star were inducted into the Illinois Basketball Coaches Hall of Fame on Saturday at CEFCU Arena on the Illinois State University campus in Normal.
Longtime WGIL Radio play-by-play announcer Brad Bennewitz, voice of Galesburg Silver Streaks sports for nearly 30 years, was inducted in the News and Media category. He is just the second media member to represent Galesburg in the IBCA Hall of Fame. Former longtime Galesburg Register-Mail sports editor Joe Morrissey received the honor in 1984.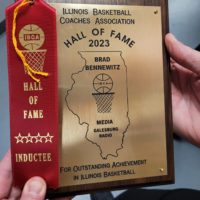 It marks the second hall of fame honor for Bennewitz in the the past year. He was enshrined into the Galesburg Athletic Hall of Fame on Nov. 26.
Bennewitz began his radio career in 1991 at Galesburg Broadcasting Company and started handling play-by-play duties for football and boys basketball on WGIL in 1992. He has been named the best play-by-play announcer for small market radio by the Illinois Broadcasters Association.
He has been a teacher in the GHS English Department since 2006.
Also inducted as a player was former Williamsfield High School all-stater Travis Lewis. Lewis graduated from Williamsfield in 1997 as the career scoring leader with 2,595 points. He led the Bombers to the Class A state tournament as a senior. A first-team all-stater, he scored a single season record 1,022 points.
Lewis started two years at Southeastern Community College in Burlington, Iowa, helping his team win a national junior college championship. He went on to play two years at Louisiana Tech, where he was a starter his senior year.
Alpha resident Dale Lanning, representing AlWood/Ridgewood, was inducted in the IBCA Hall of Fame as a Friend of Basketball.
The Illinois Basketball Coaches Association Hall of Fame was founded in 1973 to honor the best and most influential players, teams, coaches, media, officials, and friends of basketball in Illinois history. Since then, a new Hall of Fame class has been inducted every year.