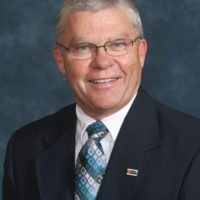 An Oneida native who dedicated his life to enriching young people, first as a high school teacher, coach, and administrator at Sherrard, Monmouth and Knoxville before spending 12 years as an administrator for the Illinois High School Association, has passed away.
Ron McGraw, a 1975 ROVA graduate, died Friday, Oct. 13 in Bloomington following a courageous battle with cancer. He was 66.
Obituary: Ron McGraw March 10, 1957 – Oct. 13, 2023
McGraw began his career in education as a teacher and coach at Sherrard High School, where he coached golf, football, and wrestling during a seven-year tenure. He then moved on to become the athletic director and dean of students at Monmouth High School. Three years later he was hired as the principal at Knoxville High School, a title he held for a decade before joining the IHSA.
"Ron was an unbelievable supporter of our mission at IHSA," said Craig Anderson, IHSA executive director. "He was a professional in all aspects of his work. Away from work, Ron's friendship and kindness were always present.
"He had talents that he gladly shared with those around him. I feel incredibly blessed to have spent time with Ron and learn from him. Those times and memories are cherished. He will not be forgotten."
More: IHSA mourns the loss of former administrator Ron McGraw
He is survived by his mother Gerna Lewis, his wife Rosemary, daughter Mallory and son-in-law Mark, son Mike and daughter-in-law Jenny, and three grandchildren Laney, Callum, and Oliver along with so many other family and friends who mourn his loss — including twin brother, Bob McGraw, Ray McGraw, Jim McGraw and sister Fawn Lynch.
McGraw was a member of the IHSA Board of Directors (2001-2004) during his time as the principal at Knoxville High School, before being hired to join the IHSA staff at the beginning of the 2004-05 school year. McGraw has served as the administrator for Boys and Girls Cross Country, Boys and Girls Swimming & Diving, Boys and Girls Track & Field and Scholastic Bowl for the entirety of his tenure.
"Simply put, Ron McGraw is one the best guys I have ever known," said Marty Hickman, former IHSA executive director. "He was a great friend, educator, and wonderful teammate at IHSA. He was a tireless worker and he believed wholeheartedly in the mission of the IHSA.
"To say he was meticulous, is an understatement. He wanted everything he touched to be right down to the smallest detail, and he did so because he wanted IHSA events to be the best they could possibly be for officials, coaches, fans, and most importantly, the students who participated in them. The Association is blessed to have crossed paths with Ron McGraw."
A social hour is planned to share memories of Ron with family and friends from 5 to 8 p.m. on Thursday, Oct. 19 at Biaggi's in Bloomington. A eulogy and prayer will be given at 5:45 p.m.
Carmody-Flynn Funeral Home in Bloomington is assisting with arrangements.