From those who signed-up July 16 – 22 for a chance to win a 4-pack of tickets to Adventureland from Motzee's in Wataga and WGIL, our 4th round of winners included:
CINDY ANKENEY of Galesburg
BRANDON DAVIS of Galesburg
STEVE PEACHEY of Galesburg
TOMMY KEITH of Knoxville
JO LYNN LEWIS of East Galesburg
JESSICA PERKINS of Galesburg
MONTY LITTLE of Williamsfield
CHASE AYERS of Galesburg
CODY GRISWOLD of Galesburg
MONICA SUTER of Prairie City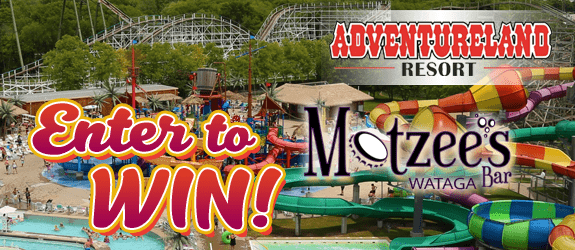 Registration is underway for our final round of 10 winners who will be drawn at random on Friday (7/30/21). Sign-up by clicking here!
In addition to Motzee's in Wataga, this family-fun opportunity is brought to you in part by these great sponsors:
A.C.E. Roofing & Construction

  ~ 

Jason Lumberry, Country Financial Agent in Knoxville

~ 

McDonough District Hospital

~

Garrett's Glass in Knoxville

  ~ 

Cassie Causey, Century 21 Affiliated

  ~ 

Lieber's Boxcar Express

  ~ 

Galesburg Lumber and Construction Supply, LLC

  ~ 

Tri-States Water

  ~ 

Henn House BBQ Catering & Food Truck

~ 

Howe Overhead Doors, Inc.

  ~ 

Woodrum Ford-Lincoln-Toyota in Macomb

  ~ 

Carol Shaw Agent, American Family Insurance, in Monmouth

  ~ 

DD Homes

  ~ 

Gale Credit Union

  ~ 

The Packinghouse

  ~ 

F & M Bank

  ~ 

City Select Motors

  ~ 

Howe Overhead Doors

  ~
Winners from previous weeks:
     Friday 7/16
JENNIFER GODSIL of Galesburg
SARRAH MITRO of Yates City
TERA GRAHAM of Cuba
RICHARD JOHNSON of Monmouth
JENNIFER LOCKE of Knoxville
DANIEL LINIGER of Knoxville
NATACHA MATTSON of Galesburg
JEANNE WARFIELD of Galesburg
LAURA RAMMAGE of Galesburg
FELICITY CAROTHERS of Galesburg
     Friday 7/09
KAYLA HIGGINBOTTOM of Galesburg
CHRIS HOOTMAN of Galesburg
ROBERT DERRY of Galesburg
BRANDI ANASTASOFF of Galesburg
STACY SCHAFER of Galesburg
MAURICE CLAEYS of Galesburg
JULIE HOOK of Galesburg
SHAWN BURNS of Galesburg
DANIELLE HALL of Abingdon
KATIE BOND of Galesburg
     Friday 7/02
CINDY COZADD of Abingdon
MINDY LOCKE of Galesburg
REBECCA CABRERA of Galesburg
GAGE AYERS of Abingdon
MARIAH VALDEZ of Galesburg
ANDREW BOND of Galesburg
JOHN SLOAN of Galesburg
BRYNN BAISDEN of Abingdon
ALEXA ALLISON of Abingdon
JOEL HAGERTY of Abingdon
Winners drawn at random from all of the entries submitted each week at wgil.com, fm95online.com, 1053kfm.com, and thelaseronline.com.