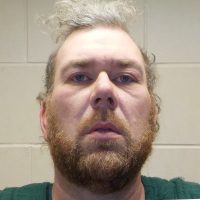 UPDATED:  A standoff outside of Avon that resulted in the death of 39-year old Fulton County Sheriff's Deputy Troy Chisum came to an end Wednesday morning — almost 19 hours after it started.
"At approximately 8:20am [Wednresday] morning, June 26, 2019, the suspect was taken into custody without incident," says Illinois State Police District 14 Commander Jon Dively.  "The suspect is being transported to the McDonough County Jail, where he will be held pending formal charges.  The suspect has been identified as 42-year-old Nathan Woodring of Avon, Illinois."
Dively claims Woodring shot and killed Chisum as he was one of four deputies who responded to a reported battery in rural Avon around 2 pm Tuesday. Woodring then barricaded himself inside the residence until his arrest Wednesday morning.
"I stand before you today saddened, and at a loss of adequate words, to express the grief we are feeling over the loss of one of our own," says Fulton County Sheriff Jeff Standard.  "Deputy Chisum dedicated his life to serving this community, which is apparent by the activities that he kept.  His legacy and sacrifice will forever be remembered."
Standard says Chisum also was a first responder, an EMT, and was a part of other law enforcement-related response teams.  Chisum was a four-and-a-half year veteran of the Fulton County Sheriffs Department.
Multiple law enforcement agencies including the Knox County Sheriffs Department locally are being credited for providing help to the investigation.
Meantime, Illinois State Police Acting Director Brendan Kelly issued a statement. "On behalf of the Illinois State Police, I extend my heartfelt condolences to Fulton County Deputy Chisum's family, friends, and extended family at the Fulton County Sheriff's Office," says Kelly. "This is the second time this year the Illinois State Police has safely apprehended an alleged cop killer. Once again, the men and women of the Illinois State Police displayed exceptional professionalism, patience and persistence as they worked side by side with our brothers and sisters through another dark and difficult moment. Mercifully, this incident was concluded with no further harm to first responders, and this defendant can now be brought to justice."
Also issuing a statement was 17th District Congresswoman Cheri Bustos. "This tragedy is a heartbreaking reminder of the danger our law enforcement officers face as they work to keep our communities safe. I send my deepest condolences to the family of the Fulton County Sheriff's deputy whose life was taken far too soon. As the wife of a sheriff, my heart aches to hear about these senseless acts of violence. I join the community and families across Illinois as we mourn this loss – Deputy Chisum was a hero and we must never forget his sacrifice."