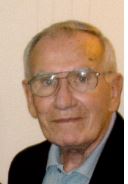 Bob Meredith passed away late last week at the age of 87, leaving behind a rich legacy as a teacher and coach.
Meredith was boys basketball coach at ROVA High School for over two decades, amassing over 500 total wins, 4 regional titles and a 2nd place state finish.
Meredith was born in Leitchfield, Kentucky, going onto serve two years in the Army and earn a Bachelor's Degree in Business.
It was while he was studying at Eureka College that he met his future wife, Evelyn Kaminsky, who he was married to for 62 years when he passed away.
Bob spent a few years in retail before obtaining a Master's in Guidance and Counseling, starting his education career in Leroy before coming to Oneida in 1970.
A funeral service will be 11 a.m. Saturday, July 6, 2019, at First Presbyterian Church.
Visitation will be 4 to 7 p.m. Friday, July 5, 2019, at Hinchliff-Pearson–West.
CLICK HERE to read Bob Meredith's obituary.