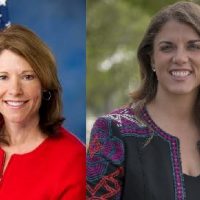 A handful of Knox County elected officials have put their support behind Democratic Rep. Cheri Bustos' campaign for a fifth term.
Bustos is squaring off in November with Republican attorney from Rock Island, Esther Joy King.
Among those publicly endorsing Bustos this week are Knox County Board Democrats, Pam Davidson, David Amor, Tara Wilder and Lyle Johnson.
Also getting behind Bustos are Galesburg City Council Members, Corine Andersen and Peter Schwartzman.
Davidson through a press release says Bustos', "tireless advocacy as it relates to the lead abatement projects stands out in an already strong record of success," in Knox County.
Amor says the East Moline Democrat has also "strengthened the county through her support of economic development."