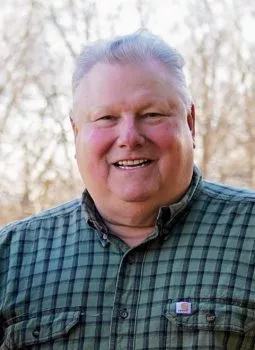 Joseph S. "Joe" Carlson, 70, of rural Monmouth, IL passed away at 7:05 pm, Saturday, January 21, 2023, at his home.
Joe was born March 31, 1952, in Monmouth, IL the son of Kenneth Wayne and Doris M. (Shaw) Carlson.  He was raised and educated in Rozetta, Henderson County, IL, and graduated from Union High School in 1970.
Joe married Rebecca "Becky" Johnson on August 5, 1978, in Monmouth and she survives.
Joe farmed on the family farm in the Rozetta area with his father and brother Andy until 1985.  He later was the service manager at Cavanaugh Motors in Monmouth and was the Hale Township Road Commissioner.  Most recently Joe was the Lead Worker for the Illinois Department of Transportation garage in Monmouth, retiring after 25 years in 2014.
Joe was a member of the Henderson Co. Pork Producer and the Henderson County Fair Board for 17 years beginning at the age of 16. He served as President of the Little York Lions Club, President of the Yorkwood Sports Boosters, Chairman of the Warren County Republican Party, and 4-H Leader for the Rozetta Ever Readies for 15 years.  He also owned and operated the Carlson Christmas Tree Farm near Little York for 13 years. Joe loved the Christmas season, decorating his home and property.
Joe participated in the landmark Diabetes Control and Complications trial at the University of Iowa where he was one of the first patients to utilize the insulin pump. Joe's family would like to express their deep gratitude and thanks to Dr. Rodney Zeitler and DCCT for over 30 years of care and compassion given to Joe and his family.
Joe was a member of Sugar Tree Grove Church where he served as a Deacon.  Joe was a longtime member and grew up in the Rozetta Baptist Church where he served on the session.
He had a love for music since childhood.  He performed in many high school musicals.  Following high school, Joe performed with local bands Lost Souls and Eternity Road.
Joe was a history buff, enjoyed taking pictures of his children's high school sports, coaching Jr. Sheriff softball and cooking on his smoker. He also enjoyed woodworking, gardening, tending his yard, and riding in his Gator in the timber with his pal Tilly.  He loved weekend breakfast days with his buddies.
Joe was an avid storyteller and never met a stranger.  He loved life and adored his family.  His grandchildren were the light of his life.
Survivors include his wife, Becky Carlson; his children, Kenny (Anne) Carlson of Ottawa, IL, Dr. Russell (Erin) Carlson of Davenport, IA, and Molly (Nathan) McKnight of Davenport, IA; 7 grandchildren, Harper, Celia, Lucy, Joseph, Channing, Calvin, and Decker; his beloved partner in crime, Tilly; 2 brothers, Keith Carlson of Waterloo, IA and Andrew Carlson of Little York; several nieces and nephews.
He was preceded in death by his parents.
Memorial services will be 10:30 am, Friday, January 27, 2023, at McGuire & Davies Funeral Home and Crematory, Monmouth, IL. Interment will take place at Rozetta Cemetery. Visitation will be from 5:00 – 7:00 pm Thursday, January 26, 2023, at the funeral home. Memorials may be given to the Becky Carlson Scholarship Foundation or the Diabetic Research at the University of Iowa (DCCT) and sent to the funeral home.  For more information or to leave an online condolence please visit, www.mcguireanddaviesfuneralhome.com.