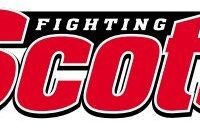 MONMOUTH, IL (02/14/2023) The Monmouth College women's basketball team lost their season finale 66-55 at Cornell College on Tuesday night. The Fighting Scots (10-15, 6-10) were officially eliminated from Midwest Conference tournament contention with the loss to the third-place Rams.
Monmouth jumped out to a 4-0 lead with baskets from Lily Harlan (Washington, Illinois) and Ashley Jones (Abingdon, Illinois). The Rams scored the next six before Zoie Wall (Bartonville, Illinois) made a 3-pointer. Down 10-7, the Scots scored six straight and took the lead on a 3-pointer from Ella Goodrich (Minonk, Illinois). Cornell scored the final six points of the quarter to lead 16-13.
Cornell pushed the lead to 22-13 and Wall keyed a 6-0 Monmouth run to close the gap to three with 1:54 to play in the quarter. Cornell went on top 27-21 and extended the lead to eight before Audrey Law (Bloomington, Indiana) scored on the final possession of the half.
Up 30-24, Cornell scored first in the second half before Harlan scored four straight points. Free throws from Wall and a 3-pointer by Harlan cut the Rams lead to 36-35. Monmouth took the lead on a layup from Wall before Cornell scored the next six points. Harlan's 3-pointer at the end of the quarter cut the Rams lead to 45-41 heading into the fourth.
The Rams started the fourth on a 10-0 run to push the lead to 55-41 before Tarae Warner (Bulington, Iowa) and Harlan hit back-to-back 3-pointers. Wall followed with a 3-pointer for a 9-0 Monmouth run before the Rams scored again. Warner hit another 3-pointer to make it 57-53 with 3:01 to play but Cornell scored the next six points to go back up 64-53. Law scored with 48 seconds left but the Rams made their free throws for a 66-55 win.
Harlan led the Scots with 15 points while Wall had 14 and Warner had 8. Wall led the team with 12 rebounds and Warner had nine. Wall added five assists and a steal to her stat line.
MONMOUTH MOMENTS: The Scots and Rams split the season series with both teams winning at home. Harlan scored at least 10 points in 13 of the last 14 games. Harlan, Warner and Wall started all 25 games on the season. Harlan led the team with 34.2 minutes per game, tops in the conference. Harlan scored a team-best 13.6 points per game with Warner at 11.7 and Wall at 11.5. Harlan and Wall both had 180 rebounds on the season for an average of 7.2 per game. Wall had 89 assists while Warner led the team with 42 steals and 10 blocks. Harlan and Warner both made 35 3-pointers on the season while Warner led the team with 71 free throws made.