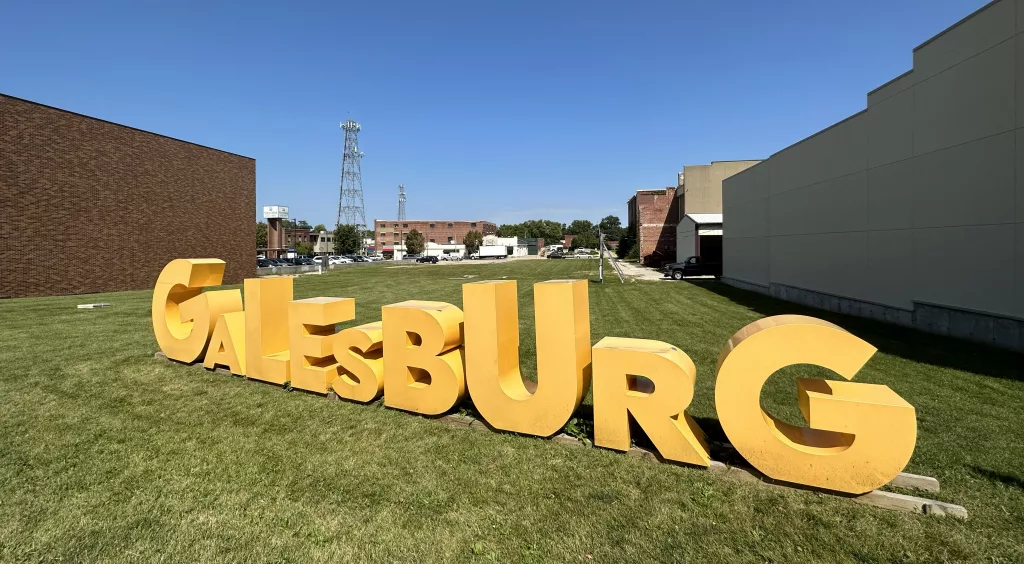 A proposed outdoor music and performance venue could bring tourism dollars to Galesburg and breath new life to a vacant downtown property.
The Downtown Community Partnership of Galesburg, in partnership with the city of Galesburg, Galesburg Downtown Council and Galesburg Tourism and Visitors Bureau, is looking to build the outdoor event facility on the site of the former O.T. Johnson Department Store in the 100 block of East Main Street.
The music venue would be called The Railyard and is projected to accommodate 800 "bring your own seats" in a built-in amphitheater on the grassy-sloped property.
'This will be something Galesburg can be proud of"
Kate Bullis, president of Downtown Community Partnership of Galesburg, is scheduled to formerly present the plan to the City Council on Monday. She said she has been in contact with city officials and other potential stakeholders and neighbors of the proposed venue.
Bullis tells WGIL, "I think most everyone in the community wants more music. You hear that all the time. When I moved back to Galesburg in 2017, I saw that empty lot, and from Day 1, I said, 'that is an amphitheater, that is an outdoor venue and this is going to happen.'
"This will be something Galesburg can be proud of."
Bullis said the group is working with Trillium Dell, a Galesburg-based business featuring timber construction, on plans for the covered stage, which would face south and be located on the north end of the property.
"We are not just building a stage, but transforming the lot to be a full venue," Bullis said. "We hope to host not only bands, but choral, symphony, theater and all kind of community projects."
Randy Newcomb, executive director of Galesburg Tourism and Visitors Bureau, estimates the project would cost $750,000, and the partners would seek 50% funding from the city.
Under the proposal, the city would retain ownership of the land and the stage. The Galesburg Downtown Council would maintain the ground much like it does across the street in Park Plaza. The Downtown Community Partnership would manage the venue and the tourism bureau would handle promotion and marketing.
Organizers: Performance venue would generate tourism revenue
Fifth Ward Council member Heather Acerra said she fully supports the project that would be located in her ward.
"We can't overstate the value of tourism dollars," said Acerra, who notes every visitor to Galesburg spends an average of $131 a day at local establishments. "This can be a great attraction for Galesburg. So while there will be some investment in building this venue, this will be a win-win for the community. It will be something we can enjoy, but also an attractor of tourism dollars."
Acerra said she would support the City Council funding half of the performance venue.
"The idea is we would put forth about half of the money to get this built," she said. "And we would solicit a campaign to seek donations to get the rest of it built."
The Railyard would host all genres of music
Bullis said she envisions the venue hosting a minimum of two shows a month during the warmer weather month, but expects the site to continue to grow in use and in popularity.
"I have already spoken to local and regional promoters to inquire about what acts can come," Bullis said. "We would love to include all genres of music. I really want to see this stage reach to all aspects of Galesburg.
"I want this downtown to be the cultural district that is the beating heart of Galesburg. That's what we are creating, and this stage will add to that."
While some events would charge admission, Bullis said, "It would be my goal to have just as many events be non-ticketed as ticketed. I want everybody to be able to come and enjoy music."
The site would be designed to accommodate food stands and food trucks, and would be secured to allow for alcohol sales at select events.
"Any added attraction or event is a positive for tourism, because it's going to bring people to Galesburg," Newcomb said. "I look at this venue to adding to what we already have. The more events we have, the more people that come in, the more they spend.
"This could be a catalyst to lead Galesburg to be known for its outdoor music events, and events in general. This would just add to Galesburg being an event-based city."
Newcomb added, "The location couldn't be better, and we get to showcase our downtown with another venue."
Organizers said if the project receives city funding, fundraising would ensue and they anticipate breaking ground in the spring, with a possible soft opening in the fall of 2024.
For more information on the project or to recommend bands, visit the DCP of Galesburg website at Dcpofgalesburg.org or contact them at info@dcpofgalesburg.com.