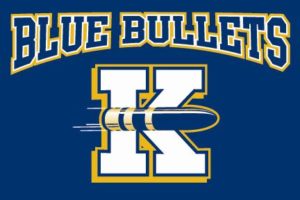 The 2023 football season came to an end for the Knoxville Blue Bullets on Saturday in the 1st Round of the IHSA State Playoffs. The Blue Bullets traveled to host school Bradley-Bourbonnais High School for their game against Momence.
Knoxville took their first drive of the game all the way down the field and reached the end zone on a 22-yard run by Nolan McClay . They then lined-up as if they were going to kick the PAT, but switched to a pass to Jacob Morris to quickly go up 8-0. Momence tied it up though before halftime. The only scoring in the 2nd half was  by Momence who went on to win, 8-16. 
After the game, the WGIL Sports broadcast team of Mitch McVey and Brett Wright awarded the Dave's Autobody Crunch Time Player of the Game to Knoxville senior Mitchell Parrish. He rushed the ball for 78 yards on 19 carries, with some of those on crucial 3rd and 4th down plays.
Knoxville finishes the season with a record of 7-3.
Live coverage of Knoxville Blue Bullets football on WGIL was sponsored by:
Dave's Auto Body • Merle Norman Cosmetics & Spa • Big Catz BBQ • Diamond Ag • Stir Coffee • Gibbs Construction • Tompkins State Bank • Lacky Monument • FirstMid Bank & Trust • Lacy England Agency • Hurd Hendricks Funeral Home & Enduring Pets • Shawn Mason, State Farm Insurance • Hinchliff Pearson West • Courtright Construction • Cassie Causey, Century 21 • Basio Plumbing, Heating & Air • Mannhardt's Furniture
Click the play button to listen to a replay of the game broadcast: