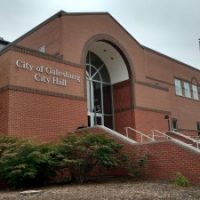 City reveals survey results of residents hopes for next Police Chief
The City of Galesburg has released some of the results from their community survey of what residents are looking for in the city's next Chief of Police.
The survey, which was available for two months and advertised through the mail, local media and social media asked participants eight questions.
When asked about the most important leadership qualities citizens would like to see in the next chief, they listed "holding employees accountable" and "trustworthy and transparent" as the top two answers.
70 percent of survey participants thought the next chief should have experience in "engaging with diverse communities" and around 58 want the person to have a "record of community involvement."
Residents listed experience working at an executive level, or experience in media or budgeting as the least important.
About 300 answered the open response question; what new initiatives would you like the new chief to pursue?
Several answers dealt with building trust between police and city residents but of course, an urging to fight crime was also a frequent refrain, with some citing texting and driving while others mentioned fighting meth crimes.
A total of 516 took the survey although that includes 72 who do not reside in Galesburg.
https://www.ci.galesburg.il.us/assets/1/22/Police_Chief_Community_Survey_Results.pdf