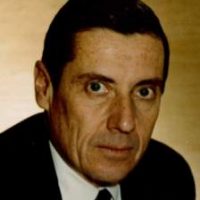 Robert J. Sparks, 85, of Galesburg, died at 1:10 a.m. Thursday, November 28, 2019, in Seminary Manor.
He was born August 9, 1934, in Galesburg, the son of Lloyd and Helen (Hurley) Sparks. He married Katherine Rawlins on October 29, 1958, in El Paso, Texas.
He is survived by his wife of over 61 years, Katherine; a son, David Sparks of Galesburg; a daughter, Carrie (husband, Mark Kubik) Sparks of Elizabeth, Colorado; and two grandchildren, Jessica Sparks and Nicholas Sparks. His parents preceded him in death.
Bob graduated from Galesburg High School in 1952 and from Knox College in 1956, with honors. He then served in the United States Army for two years, stationed at Ft. Bliss in El Paso, Texas.
Upon returning to Galesburg, Bob began working for Rowe Manufacturing from 1958 to 1968. He then began a career in banking with United Federal Savings Bank, retiring in 1985 as president.
Bob was very active in community affairs over the years. He was an active Knox College Trustee from 1981 to 1988 and a life trustee until his death. He served on the board and was past president of OSF St. Mary Medical Center and the Foundation Council, retiring in 2014. Bob was a member and past president of Soangetaha Country Club and Galesburg Rotary Club. He was also past president of the Knox County YMCA board, serving at the time the current facility on Carl Sandburg Drive was built.
Bob was an avid golfer.
Visitation will be 5 to 7 p.m. Thursday, December 5, 2019 at Hinchliff-Pearson-West Funeral Directors and Cremation Services Galesburg Chapel. Funeral Mass will be 10 a.m. Friday, December 6, 2019 at Corpus Christi Catholic Church with burial following in St. Joseph Cemetery. Memorial contributions may be made to Corpus Christi Catholic Church, Knox College, OSF St. Mary Medical Center, or the Galesburg Community Foundation. Online condolences may be made at www.h-p-w.com.