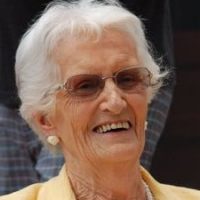 Mrs. Marilyn D. Pennington, 92, of Terre Haute, Indiana formerly of Galesburg passed away Thursday, November 28, 2018 at the Terre Haute Regional Hospital.
Marilyn was born June 26, 1927 in Des Moines, Iowa the daughter of Harold and Maude Campbell Reinhardt. She married David J. Pennington on April 4, 1948 in Galesburg. He preceded her in death on June 4, 2002.
Marilyn is survived by her son, Thomas D. (Sargie) Pennington of Crystal Falls, Michigan; her daughter, Barbara (John) Sword of Reelsville, Indiana; her brother, William R. Reinhardt of Springfield, Missouri; eight grandchildren, eighteen great grandchildren and two great great grandchildren. She is preceded in death by her parents, her husband and her sister, Nancy Thompson.
Marilyn worked as the secretary for Kellogg and Drake and also School District 108, Pekin for 19 years, retiring in 1983. She graduated from high school in Des Moines and the University of Iowa. Marilyn was a former member of the American Business Women's Association and the Havenettes at Winter Haven Shrine Club. She had lived in Galesburg, Pekin and Florida since 1994. She was a member of the Winter Haven Christian Church.
Funeral Services are scheduled for 10:00 am Tuesday, December 3, 2019 at Hinchliff-Pearson-West Funeral Directors and Cremations Services Galesburg Chapel. The Rev. Kevin Drane will officiate. Visitation will be 9:00-10:00 am Tuesday at the chapel. Burial will be in Oak Lawn Memorial Gardens. Memorials may be made to the Moffitt Cancer Center, Tampa, Florida. Online condolences may be made at www.h-p-w.com