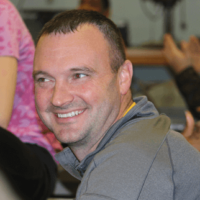 Ryan Hart apparently will step down as the Galesburg High School head boys basketball coach after two seasons.
Hart was approved by the Williamsfield School Board on Monday night as a physical education teacher for the 2021-22 school year.
Hart himself graduated from Williamsfield High School.
The long-time assistant for coach Mike Reynolds Hart went 29-4 overall with the Streaks, won a Western Big 6 Conference championship and finished with a No. 4 ranking on the Associated Press poll in 2019-20.
District 210 Superintendent Tim Farquer tells The Register-Mail that he, "think(s) the world of (Hart) personally and professionally", adding,"we're just excited to add his skills to our staff."
Galesburg High School Athletic Director Eric Matthews tells WGIL that Hart hasn't spoken with him about resigning. He says he learned about Hart's apparent move in the media like everyone else.