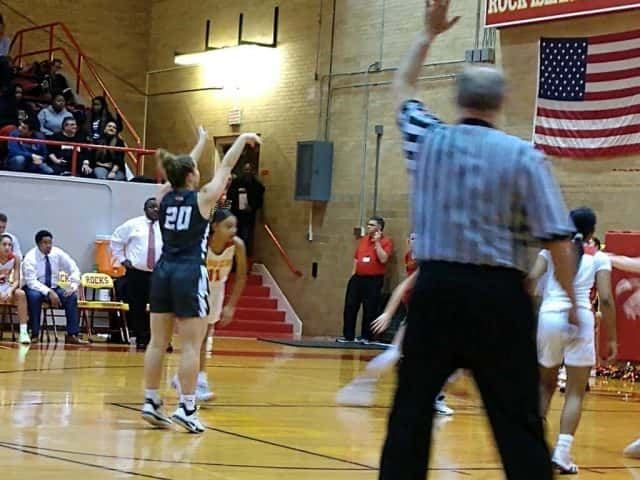 The Galesburg Silver Streaks girls basketball team showed some fight late in the game Thursday; but it was too little, too late, as the Streaks lost in  Western Big 6 Conference at the Rock Garden against the Rock Island Rocks 60-52.
The Streaks outscored the Rocks 23-15 in the 4th Quarter, and was down by 22 at one point in the game, able to make a nice comeback.  Full court pressure late in the ball game caused some turnovers.
Riley Jenkins led the Streaks with 18 points, and also had 5 assists.  Lauren Livingston also had a good game, with 13 points and 7 rebounds.  Audree Peck had 6 points, 5 rebounds, and 5 blocks.  Our Dave's Autobody Crunch Time Player of the Game, sophomore Kadynce Lydic, came off the bench and scored seven points, all in the fourth quarter.  She also had four steals, three of those in the fourth quarter, sparking the Streaks defensively during their comeback.
The Streaks were 19 for 48 from the field.  The difference was turnovers for the Streaks in the first half; they had 11 in the first half, 19 for the game.  On the offensive glass, they were out-rebounded by Rock Island 20-12.
Imari McDuffy led the Rocks with 16 points, while Hannah Simmer had 13, and Jamyah Winter had 11.
The GHS Sophomores defeated Rock Island, 60-43.
The Streaks varsity is now 13-11 on the year, and 3-6 in the Western Big 6.  Rock Island is now 19-6 overall, and 7-2 in the conference.
Miss the game?  Listen to it in its entirety here!
Tags: